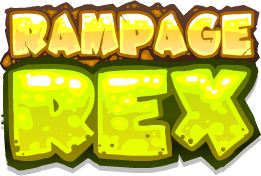 Rampage Rex
Loading SWF for the first time...
Help this Tyranosaurus Rex get revenge on the museum! Run, jump, and chomp as an angry T-Rex across 25 fun levels while avoiding museum security, and even the police!
Try earning a golden egg in each level. Only the most skilled players will be able to, but the challenge will keep many coming back for more!
Run with arrow or WASD keys. Up or W to jump; hold for max height. Chomp by pressing the space bar. Taking a bite out of all of the art in the current level will complete the level. However, be careful to not be seen by museum security, and even the cops! Good luck!